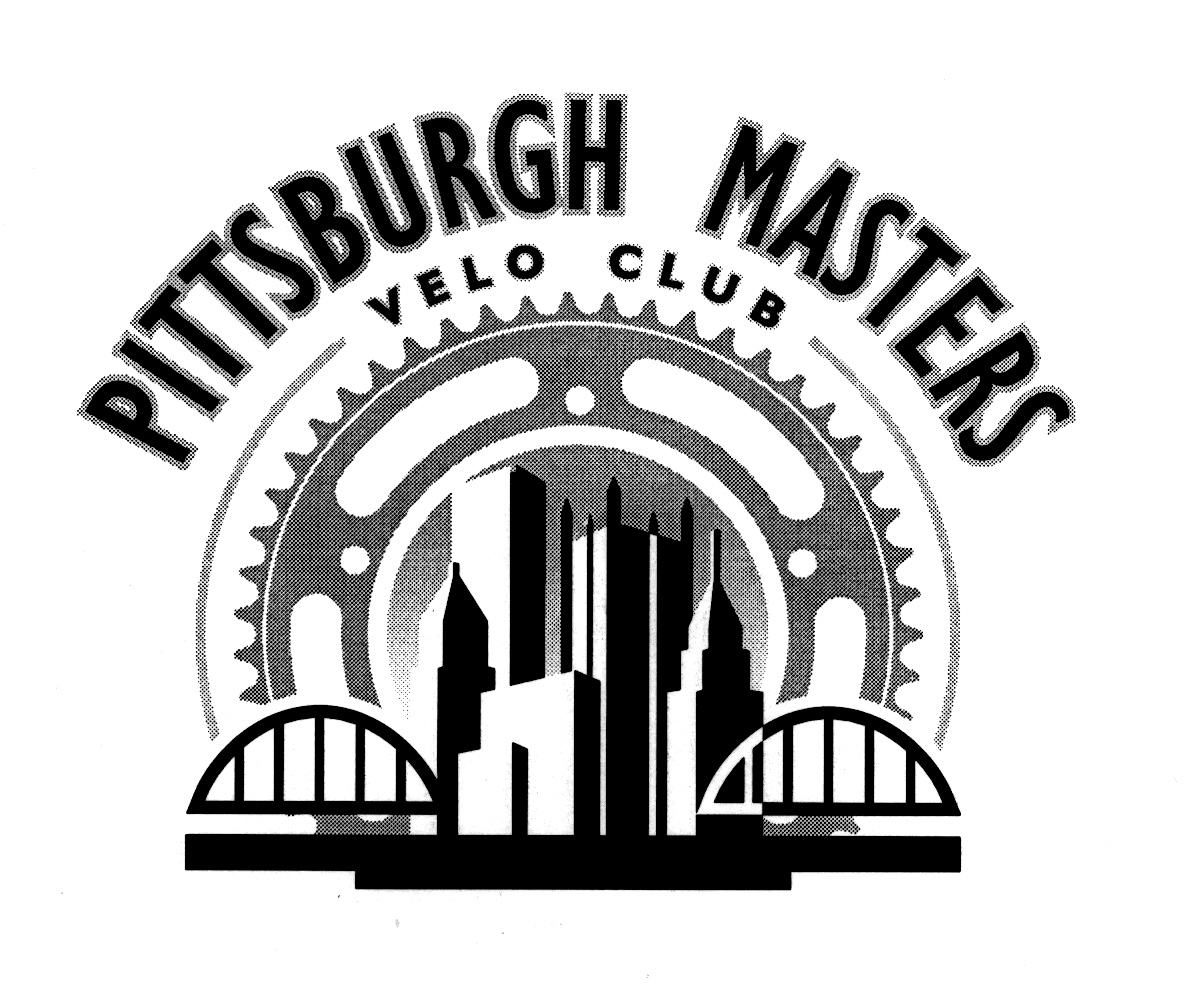 "Più vecchi diventiamo, più veloci eravamo."
PITTSBURGH MASTERS VELO CLUB (PMVC) OFFICIAL WEBSITE

SCHEDULE OF TRACK RACES, TIME TRIALS
FRIDAY NIGHT AT THE TRACK, JUNE, JULY, AUGUST 2016
FLYER (pdf).

ANNOUNCEMENTS (html).

TIME TRIAL RULES FOR THE BUD HARRIS TRACK: PLEASE READ BEFORE COMPETING! (pdf).

DESCRIPTION OF TRACK RACE EVENTS (html).

FIAC TRACK RULES. THESE WILL BE FOLLOWED WHERE APPLICABLE AT THE WASHINGTON BLVD. TRACK (pdf).

UCI RULES REGULATING PARA-CYCLING (pdf).


FORMS
To participate in track events (time trial or fixed gear, individual or team), bring a signed and dated, carefully filled out (a) ABR liability release form and (b) City of Pittsburgh release form with you to your first event. You may leave out the ABR number, but enter all other information LEGIBLY. You will initial the date of the race prior to each event (or, if you prefer, initial all of them in advance and save yourself the trouble). Some dates may be vacant.

ABR 2016 RELEASE FORM (pdf).

CITY OF PITTSBURGH 2016 RELEASE FORM (pdf).


RESULTS AND RECORDS

FRIDAY NIGHT RESULTS FOR 2016.

COMPLETE FRIDAY NIGHT RESULTS, 2002-2015.

PITTSBURGH BIKE OVAL RECORDS.


SELECTED TRACK PHOTOS
If you take any photos of Friday-night action at the track, submit them for possible listing.

Mark Bedel showing good TT form.
Steve Marlette on his way to winning the the 20-mile.
Jay Downs motor-paces a keirin elimination.
Crawford, Goldberg, and Walton sprint to the line in a preliminary keirin round.
Gottlieb, Mayhew, DeBoer, Ross, & Lundren, ready to set the 4000 meter Olympic Sprint Record--7/10/15.
PMVC NEWS
2004 PMVC TRIP TO SARDINIA
2005 PMVC TRIP TO SARDINIA
2006 PMVC TRIP TO SARDINIA
2007 PMVC TRIP TO SARDINIA
2009 PMVC TRIP TO SARDINIA
2010 PMVC TRIP TO MARYLAND
2011 PARTIAL PMVC REUNION IN HOLLAND
2012 PMVC SPRING REPORT FROM TUSCANY
2013 SPRING REPORT FROM FRANCE AND ITALY
2014 FALL TRAINING IN VERONA
2015 SPRING TRAINING IN VERONA
2016 BLUE RIDGE PARKWAY
2017 SPRING TRAINING IN SARDINIA


PMVC PHOTOS AND OTHER ARCHIVAL MATERIAL
Spring Training 2011 in Tuscany. Ruud Drops his Chain Yet Again.

Ruud van Dijk's blog, which occasionally has something of cycling interest.
Barry Ames, Ed Connerley, and Oscar Swan ride from Barry's house to Ed's in 3 1/2 days.
Putzu Idu is Burning, featuring international film star Oscar Swan in signature Putzu Idu role.
Steve Loevner outsprints Eric Schaffer in the 2007 Giro di Sardegna".
Michele describes blow by blow his ridiculous 264 km ride.
Eric describes his trip to Munich and Oslo.
Vintage photo of winning PMVC team at Strongland, ca. 1997.
An even more vintage photo (note the original jerseys) of the PMVC team at Strongland, ca. 1996. We lost by two seconds.
Eric Schaffer finds the road to prosperity.
Oscar Swan wins the 2006 Grand Primo Putzu Idu.
Oscar before the 1969 Compton CA 50m TT (which he aced in 2:00:07).
Ruud van Dijk finishes Gran Fondo Chessini.
Download Ruud's colorful description of Gran Fondo Chesini.
Ruud putting the hurt on the field at SuperWeek 2006.
Stephanie and Oscar winter training in Durango, Colorado, March, 2007.
Stephanie and Oscar on the Trans-Danubian Plains, August 2009.
Ruud and Michele on Mt. Ventoux, so they say.
Stephanie on her way to getting 10th in the mens A-Race at the track, May 18, 2011.
Oscar and Eric having taken the new Montour airport spur. They ate lunch in Paris and were back in time for Eric's 2:00 phone call at the office. August 15, 2012.

Ruud's omelet in the shape of Sardinia. Where is San Vero Milis? August 28, 2012.

Second annual Sundae Ride to the ice cream shop at Sarris Candies, Canonsburg, June 19, 2015.
Riders lining up for the hand-cycle event, August 231, 2015.
CONTACT US